On Edge Reviews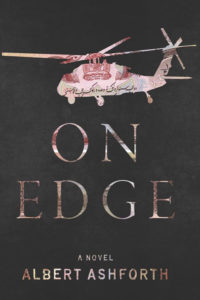 I love On Edge by Albert Ashforth! Exciting and authentic, it's a riveting thriller in which billions of U.S. dollars are at stake. Intelligence officer Alex Klear returns in the second of this fascinating series to investigate what appears to be the simple murder of an old friend in Kabul, Afghanistan. Rich with insider details known only to those who've lived the life, On Edge is beautifully written and will make you hunger for the next book. Ashforth is a true master of suspense.
— Gayle Lynds, New York Times best-selling author of The Assassins
No question: On Edge is the real deal from a writer who knows the territory, has faced the fear, and seen the action. This isn't just a gripping story. It's the inside story, thrilling, and compelling. Having just finished the book, I feel I've been there and I want more.
— Peter Lovesey, award-winning author of Another One Goes Tonight
On Edge is a brilliant, unfiltered portrayal of what Afghanistan has become. Ashforth's military background shines through on every page. Fans of Vince Flynn and David Baldacci will find a new favorite.
— Ward Larsen, USA Today bestselling author of Assassin's Silence
The Rendition Reviews
Using knowledge gained from his U.S. Army training, Ashforth crafts a compelling novel. Intelligence officer Alex Klear's assignment to kidnap an officer in the Kosovo military goes awry. He's tortured and barely survives. Now retired, Klear is persuaded to get back in the game, lured by the opportunity to pay back his captors. Forced to work with a superior officer he can't stand, Klear must utilize all of his contacts to try to discover the truth behind the imprisonment of another officer accused of murder. Ashforth brings plenty of authentic detail to the narrative and generates considerable suspense in the process. Readers who enjoy the military action and derring-do of Brad Taylor or Ben Coes should add Ashforth to their reading lists.
— by Jeff Ayers
Associated Press, Library Journal, Booklist
Did you ever wonder what really goes on behind the story that we are told about a war? This book tells us what really is hidden from the press, the story behind the story.
Alex Klear is sent on a top-secret mission to Germany. Alex breaks into a house belonging to Ursula Vogt who is a journalist for a German magazine. As he breaks into the home, Colonel Sylvia Frost watches for police a block away. Alex finds Ursula's writings hidden in a room behind her bed. Hopefully, what they have uncovered will prove that the American they are holding in the murder of Vogt is innocent. Doug Brinkman is a Green Beret who has been the handyman for Vogt while trying to get information about who has gassed 40 soldiers; America is being blamed for this horrible crime.
At first this book charged so fast into who was who and then it all clicked for me and I was thoroughly engrossed in one of the best books that I have read. It takes until the very end before you know who did what and why. This is a must read for anyone who wants to understand what really goes on.
— by Julie Moderson, Bestsellersworld.com
A former military contractor who did tours in Kosovo, Germany, and Afghanistan, Ashforth (Murder After the Fact) brings valuable insider detail to this exciting spy thriller. In 2007, veteran intelligence officer Alex Klear embarks on a mission in Kosovo to seize Ramush Nadaj of the Kosovo Liberation Army and spirit him out of the country. The operation doesn't go as planned. Alex endures two days of torture at the hands of Nadaj and his KLA people before his partner, Buck Romero, rescues him. While recovering at a military hospital in Germany, Alex decides to retire from covert work. Then attractive Col. Sylvia Frost offers him a chance to get back at the folks who almost killed him and complete Nadaj's rendition. An old girlfriend from Alex's early days in Germany lends romantic interest as he seeks to unravel a tangled skein of lies and international politics. Fans of classic spy fiction will look forward to seeing more of the indomitable Alex.
— by Cevin Bryerman, Publishers Weekly
Alex Klear's last black ops rendition did not go well. Rather than extract his target from Kosovo, he had to be rescued himself. After that, he decided it was time to retire for good and stick to his quiet ice delivery business in Saranac. However, the United States government thinks differently. Alex has been in the intelligence business for the US for over 25 years. He's one of the best.
His special ops assignment is to extract an Army major, a Green Beret, from a prison in Munich, Germany. Major Doug Brickman is accused of murdering a lady journalist. As Alex gets into this rendition, he learns there's more at stake than meets the eye. Digging a little deeper, he learns this rendition could be tied to the one that went bad for him in Kosovo eight months ago. The deeper he gets into the investigation, the more questions and concerns arise. He doesn't like the odds, but no one is listening.
There's another twist too; he has to see Irmie again, a homicide detective in Munich. He left her in Germany nine years ago with a lot of questions about their relationship. Are there still feelings between them that could get in the way? Irmie plays it cool from the start and is all business. Will that change? Alex tries to do his job and stay out of trouble with the German police, but that's hard to do when the police start looking his way in another murder investigation.
The Rendition is a military/police thriller that will capture your interest from the start. It's filled with dicey characters and a tangled web of subplots. Traverse the globe with Alex from quiet Saranac to high priority black ops in Kosovo and then on to international espionage in Germany. The pace is a little slow until Alex puts his plan into action in Munich, and then it escalates with breakneck speed. If you're a fan of this genre, as I am, you'll enjoy this one.